Italy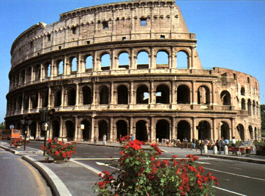 Basic Information:

Official Name: Italian Republic
Population: 59,917,907
Area: 301,230 km2
Capital City: Rome
Major Religion: Roman Catholic
Currency: Euro (EUR)
Exchange Rate: N/A
Time Zone: GMT +1
Current time: 12:51am
Phone Country Dialing Code: 39
Region: Europe
Language: Italian
Useful Travel Phrases in: Italian



Climate ():


Practical Travel Information:

Official Tourism Website:
www.italiantourism.com
Electricity: 230V
Electrical Socket:


Travel Cost: $$$$ ($ = cheap, $$$$$ = expensive)
Main Attractions:
Piazza dei Miracoli - It is a walled 8.87-hectare area located in Pisa, Tuscany, Italy. It is best known for the campanile (bell tower), also known as the Leaning Tower of Pisa.
Venice - Venice is a city in northeastern Italy and the capital of the Veneto region. It is situated on a group of 118 small islands that are separated by canals and linked by over 400 bridges.
Colosseum - It is an oval amphitheatre in the centre of the city of Rome, Italy. It was built in 70-80 AD, and was the largest amphitheatre ever built at the time and held 50,000 to 80,000 spectators.
Galleria dell'Accademia - The Galleria dell'Accademia di Firenze, or "Gallery of the Academy of Florence", is an art museum in Florence, Italy. It is best known as the home of Michelangelo's sculpture David.
Health Advisory: