Canada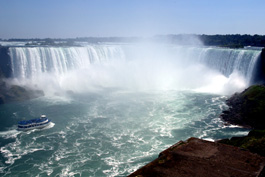 Basic Information:

Official Name: Canada
Population: 35,295,770
Area: 9,984,670 km2
Capital City: Ottawa
Major Religion: Christianity (majority)
Currency: Canadian dollar (CAD)
Exchange Rate: N/A
Time Zone: Canada has more than one time zone.
Current time: 01:03am
Phone Country Dialing Code: 1
Region: North America
Language: English, French
Useful Travel Phrases in: French



Climate ():


Practical Travel Information:

Official Tourism Website:
caen-keepexploring.canada.travel
Electricity: 110V
Electrical Socket:
Travel Cost: $$$$$ ($ = cheap, $$$$$ = expensive)
Main Attractions:
Niagara Falls
Jasper National Park
Fortifications of Quebec
Bay of Fundy
Health Advisory:None
Canada is divided into ten provinces and three territories. Because Canada
is so large and diverse, each province and territory promotes tourism differently.