Australia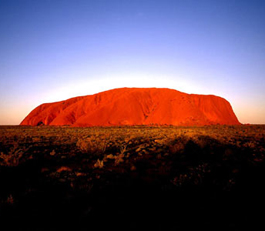 Basic Information:

Official Name: Commonwealth of Australia
Population: 23,362,056
Area: 7,687,000 km2
Capital City: Canberra
Major Religion: Christianity
Currency: Australian dollar (AUD)
Exchange Rate: N/A
Time Zone: GMT +10
Current time: 02:00am
Phone Country Dialing Code: 61
Region: Oceania
Language: English




Climate ():


Practical Travel Information:

Official Tourism Website:
www.australia.com
Electricity: 240V
Electrical Socket:
Travel Cost: $$$$$ ($ = cheap, $$$$$ = expensive)
Main Attractions:
Sydney Opera House - The Sydney Opera House is a multi-venue performing arts centre at Sydney Harbour in Sydney. It was designed by Danish architect Jorn Utzon, and is one of the most distinctive buildings in the world.
Uluru-Kata Tjuta National Park - Uluru, also known as Ayers Rock, is recognized as Australia's most natural icon. The sandstone monolith stands 348 metres (1,142 ft) high. You can also learn about the aboriginal culture by visiting the Uluru-Kata Tjuta Cultural Centre.
Great Barrier Reef - The Great Barrier Reef is the world's largest coral reef system composed of over 2,900 individual reefs and 900 islands stretching for over 2,300 kilometres over an area of approximately 344,400 square kilometres.
Health Advisory:
Yellow Fever (Vaccination certificate may be required if coming from infected area)
Australia is divided into six states and two mainland territories. The statesare New South Wales, Victoria, Queensland, South Australia, Western Australia and Tasmania. The two mainland territories are Australian Capital Territory and Northern Territory.The smaller island territories are Northfolk Island, Christmas Island, Cocos Island, Australia Antarctic Territory, Macquarie Island, Heard and MacDonald Islands, Coral See Island Territory.